MAG IPTV Setup Boxes – How To Setup IPTV on MAG Box
MAG Setup Boxes
MAG IPTV Boxes: The MAG is one of the most widely used IPTV devices in the world. After 2007, it started producing set-top boxes under the MAG brand. Multifunctional set-top boxes allow you to organize your media and quickly access IPTV services. Let's discuss each and everything about MAG setup boxes.
What are MAG setup boxes?
Before going into the specs of both IPTV set top boxes, let's take a quick look at what a MAG box is, explore how their differences affect using both set top boxes in the real world, and give our opinion on which streaming box you should buy.
A MAG box is a set-top box that streams media to your TV. You can also use the USB port to play offline media files from a storage device. Due to the native support of the Stalker middleware, most customers choose to MAG to an Android box.
You can use it to connect to IPTV servers and watch live TV or VOD movies. It also has EPG functionality and is generally the most acceptable option for live streaming.
MAG Box Setup Instructions
NOTE: Make sure your MAC address has been registered. Please make sure you enter your MAC address correctly in the MAC section when logging in. To find the MAC address of your MAG box, simply turn the box over and you will find the MAC address starting with 00:1A:79: on the back of your device. Setup takes about 5 minutes.
LET'S GET STARTED!
Turn on your MAG device. Let it load and then click "Settings".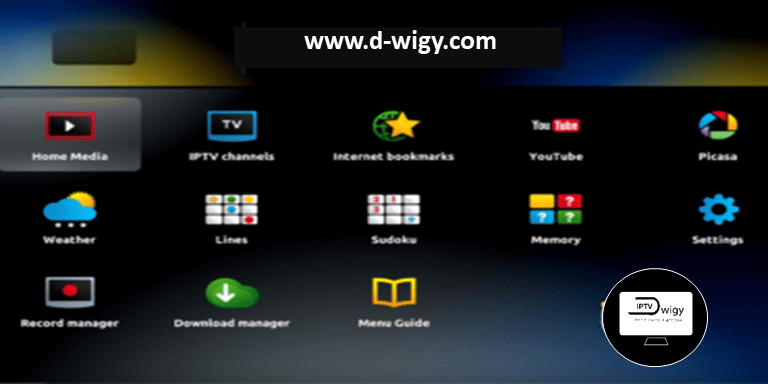 Go to the settings menu. Click on System Settings and then on "Server"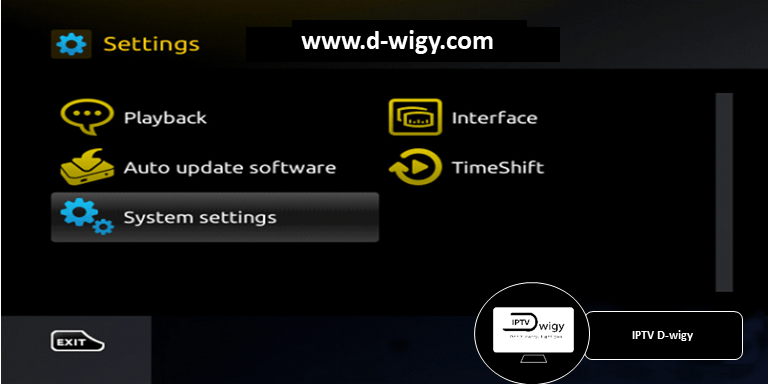 In the "d-wigy" line enter: D-wigy IPTV. In the "d-wigy URL" enter: Portal will be given by Provider d-wigy
When all the operations listed above are done, then press "OK" to save the information.
Once the information has been saved successfully, press the "Exit" button on the remote control 2 times and select "Reload Portal".
Your new portal should start loading and you should be done and ready to enjoy the service.
Note: If you are using MAG 250, 254 or MAG 256 and your portal does not load successfully, the reason may be that the list is too large and your device cannot handle it due to insufficient memory. The channel list should be reduced and you should look to a newer model Mag STB.
PAGE LOADING ERROR: If you get this "Error loading page" message. Please make sure your box is connected to the internet. If it is already connected, please follow these few steps. In the Inner Portal, go to Settings > System Settings > Network and change the option you use for your Internet from "Auto-DHCP" to "Auto-DHCP/Manual DNS". Then on "Manual DNS" set "8.8.8.8", save and reboot.
If the problem persists, perform a factory reset and try again.
If you receive the status "Your STB is blocked. call the provider". This means that your MAC address is not active on the server. Please double check your Mac address to ensure your details are correct.
How important are skills and internet streaming?
When it comes to the MAG 322 streaming content, it performs admirably. Changing channels is smooth and fast, just like changing menus is faster than before, even over Wi-Fi.
The MAG 322 cannot display subtitles. However, if subtitles are vital to you, then this is a significant concern. If anything, use subtitles.
The MAG 322 is also not compatible with virtual private networks for people who value their online privacy and security. This box also doesn't let you record any content, which is standard on many streaming gadgets. Again, these weren't issues for me, but I feel compelled to mention them when they apply to someone else.
You have access to built-in WiFi if you purchase what you should. There are two USB ports for those who need to use an adapter; We will, however, discuss the W1's Wi-Fi capabilities.
We prefer built-in Wi-Fi boxes with antennas. Antennas are more liable to receive stronger signals and maintain stable connections. Surprisingly, my tests with the MAG 322 W1 were very promising.
The signal was obvious and almost always recognized the most important connection. It's not as good as most IPTV boxes with an antenna, but it's one of the most sensitive signals I've ever received from a package without an antenna.
The best thing about MAG setup boxes?
What makes the MAG box so attractive to you and many others is that it is easy to use and set up? We'll get into my interface experience later, but this MAG box has a dedicated menu and isn't filled with complicated settings.
Connection to the Internet is always available, and finding a desired channel or content is always available. In addition, the accessories for mag boxes like Mag Wireless Wi-Fi USB are available in the market.
This isn't like an Android box where you can install and download dozens of apps. According to the philosophy, it has always been an IPTV box that gives television. Everyone has a smartphone these days; It's so good to know that a TV box is designed for people who want the TV aspect. Mag 322 continues the design philosophy of these without deviation.
Conclusion
You may find a plethora of cheap fake MAG boxes on any major e-commerce site. Even buying them can save you a few bucks, but we always recommend going with the original set-top box.
These items are being discounted for a reason. They are of poor quality and made from cheap components and materials. They will likely break quickly, forcing you to buy a second box. More importantly, some developers have created a great ecosystem of software and hardware that is easy to use and performs admirably. Show your support by purchasing a MAG box!
Also Visit: What is STB? Set Top Box